Complete Family Dentistry Blog - Waukesha , WI
Posts for: May, 2017
By Complete Family Dentistry
May 25, 2017
Most children's permanent teeth erupt on a fairly predictable schedule. Sometimes, though, one or more teeth might not develop as they should — or at all.
These absent teeth pose functional problems for chewing and hygiene, which can affect long-term dental health. But they can also have a disruptive effect on an otherwise attractive smile if the missing teeth are the upper lateral incisors in the most visible part of the smile.
You normally find this pair of teeth on either side of the upper central incisors (the two front-most teeth). On the other side of the lateral incisors are the canine or eye teeth, known for their pointed appearance. Without the lateral incisors, the canines tend to drift into the space next to the central incisors. This can produce an odd appearance even a layperson will notice: only four teeth where there should be six!
It's possible to correct this abnormality, but it will take time and expense. The first step is usually to move the teeth in the upper jaw with braces to their correct position. This puts teeth where they should be and also opens space between the canines and central incisors so we can eventually replace the missing teeth with dental implants.
But the key to all this is timing. It's usually appropriate to undertake tooth movement with braces during late childhood or adolescence. But implants shouldn't be installed until the person's jaw fully matures, usually in early adulthood. An implant placed before then could eventually become misaligned.
To accommodate the time between bite correction and implant placement, the patient can wear a retainer appliance that will keep the newly created space open. We can also attach artificial teeth to the retainer to camouflage the empty space.
It usually takes a team of a family dentist, an orthodontist and a surgeon to see this kind of "smile makeover" project through, possibly over several years. But the gains in better aesthetics and health are well worth the time and expense.
If you would like more information on replacing non-developing teeth, please contact us or schedule an appointment for a consultation. You can also learn more about this topic by reading the Dear Doctor magazine article "When Permanent Teeth Don't Grow."
By Complete Family Dentistry
May 10, 2017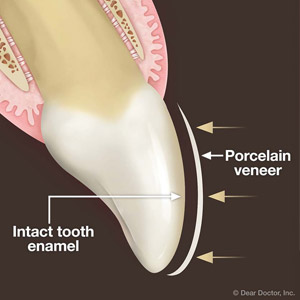 Porcelain veneers are positive proof that unattractive teeth don't always require an intensive restoration to regain their beauty. These thin layers of translucent porcelain — custom-designed and color-matched to blend with your other teeth — are permanently bonded to the visible side of your front teeth.
Although they can't remedy every tooth defect, they're well suited for mild to moderate disfigurements like chipping, staining or gaps. There are now two types of porcelain veneers: the traditional veneer and the "no-prep" veneer.
The standard veneers require some tooth structure removal, referred to as "tooth preparation." This is because although they're a millimeter or less in thickness, they can still appear bulky if bonded to an unprepared tooth. To accommodate their width, it's necessary to remove some of the tooth enamel. This permanently alters the tooth so that it will need some form of restoration from that time on.
In recent years, however, other veneer options have emerged that reduces — or even eliminates — this tooth alteration. No-prep veneers are so thin they can be applied to a tooth with virtually no preparation. A more common option, minimal-prep, requires only a minor reshaping with an abrasive tool to ensure the fitted veneer looks as natural as possible. Because of their thinness, these veneers also don't have to fit under the gum line like standard veneers.
To obtain no- or minimal-prep veneers, your tooth enamel needs to be in good, healthy shape. They're also best suited for people with small or worn teeth, narrow smiles (the side teeth can't be seen from the front), or slightly stained or misshapen teeth.
Because there's little invasiveness, these low preparation veneers won't typically create tooth sensitivity and they can often be applied without any form of anesthesia. And because tooth structure isn't removed, they can be "uninstalled" to return to your natural look. Of course, that's not always an easy process since the bonding between veneer and the enamel is quite strong, although today's lasers can be used to detach the veneer quite easily.
If you'd like to consider these minimally invasive veneers, talk with your dentist. If you're a good candidate, you may be able to gain a new smile without much change to your natural teeth.
If you would like more information on how veneers can change your smile, please contact us or schedule an appointment for a consultation. You can also learn more about this topic by reading the Dear Doctor magazine article "No-Prep Porcelain Veneers."