Complete Family Dentistry Blog - Waukesha , WI
Posts for: February, 2017
By Complete Family Dentistry
February 16, 2017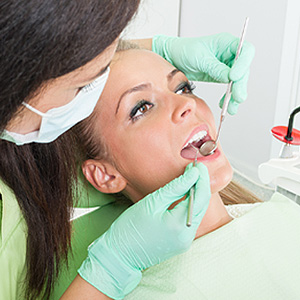 Tooth decay can wreak more havoc than just producing cavities. It can work its way into the innermost parts of the tooth — the pulp and tiny passageways called root canals that lead to the tooth's connection with the bone.
If that happens, you'll need more than "drilling and filling." Without intervention, your tooth could be lost. That intervention is a root canal treatment, a procedure that removes the infection from within the tooth and preserves it from re-infection.
You've probably heard the old belief that root canal treatments are painful. With modern anesthetic techniques to deaden pain, that's not true. In fact, root canal treatments stop the pain caused by infected nerves within the pulp and root canals. More importantly, it saves your tooth.
Root canals can be performed by a general dentist. More extensive decay or complex root canal networks may require the services of an endodontist, a dentist who specializes in root canal anatomy and treatments. Endodontists have advanced techniques and equipment to handle even the most difficult case.
Regardless of who performs it, the basic procedure is the same, as is the goal: to completely remove all diseased tissue within the tooth and seal it with a special filling to prevent re-infection. To access the diseased pulp, we first drill an access hole, usually in the biting surface of a back tooth or the back of a front tooth. We then use specialized instruments to remove the infected tissue and flush out the space with antibacterial solutions.
We then insert a filling called gutta percha into the empty pulp chamber and root canals, seal off the filling with adhesive cement, and close the access hole with filling. These fillings and sealants prevent bacteria from reentering the tooth. For added protection against infection and fracturing, we also recommend placing a full-coverage dental crown. This also enhances the appearance of the tooth, which must be modified during the root canal procedure.
The end result: your once endangered tooth has been preserved for hopefully many years to come. So if we recommend you undergo a root canal treatment, don't wait — the tooth you save may be your own.
If you would like more information on root canal treatment, please contact us or schedule an appointment for a consultation.
By Complete Family Dentistry
February 01, 2017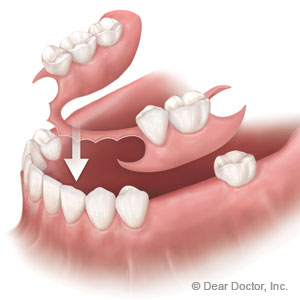 Dentures in one form or another have been around for centuries. Although dental implants have earned a well-deserved prominence of late, the denture still remains a viable tooth replacement option.
What's more, dentures aren't reserved for total tooth loss only. Even if you've lost just a few of your teeth, we can fit you with a removable partial denture (RPD). Although mainly considered a temporary solution for missing teeth, some people depend on an RPD for many years due to finances or other issues.
The traditional RPD consists of a rigid acrylic plastic base that resembles gum tissue supported by a metal framework, with prosthetic (false) teeth precisely placed to fill the space of the missing teeth. They're held in place with metal clasps that extend from the metal framework to fit over the remaining natural teeth.
Although they're an effective restoration, traditional RPDs have a few drawbacks. Some people find them uncomfortable to wear or have an allergy to the acrylic plastic. They also have a propensity to stain from beverages like tea, coffee or wine.
But there's a more recent version called a flexible RPD that addresses these and other concerns. It's made of a pliable nylon that's durable, yet comfortable to wear. Rather than metal clasps, they're secured in place with thin, finger-like nylon extensions that fit into the small, natural depressions in the crowns of the teeth around the gum line.
Flexible RPDs are also highly adaptable to appear life-like in many situations. We can fashion the nylon base to cover areas around natural teeth where the gums may have receded due to gum disease.
They do, however, have a few downsides. Unlike traditional dentures, they're difficult to reline or repair. Like any oral appliance, they can suffer from wear and neglect, so you must properly clean and maintain them. And, like any RPD their best role is as a temporary bridge rather than a permanent restoration.
In the meantime, though, you can count on a flexible RPD to restore your ability to eat and speak proficiently, as well as smile with confidence. It's a great affordable way to address a few missing teeth.
If you would like more information on dentures as a restoration option, please contact us or schedule an appointment for a consultation. You can also learn more about this topic by reading the Dear Doctor magazine article "Flexible Partial Dentures."