Complete Family Dentistry Blog - Waukesha , WI
Posts for: December, 2014
By Complete Family Dentistry
December 16, 2014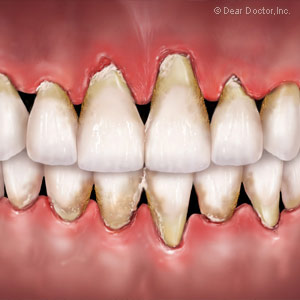 We're all susceptible to gum disease when we fail to practice effective daily brushing and flossing. But you may have a greater risk of gum disease (and more severe forms of it) if any of the following categories pertain to you:
Aging. Gum disease risk naturally increases with age. We can lower the risk with an effective daily hygiene regimen, along with a minimum of two office cleanings and checkups each year. Brushing and flossing removes bacterial plaque and food particles which accumulate on tooth surfaces. The longer plaque remains in contact with gum tissues, the greater the chances of infection.
Pregnancy. Although women tend to take better care of their teeth than men, they still face unique issues that increase their risk. During pregnancy, for example, certain hormone levels rise, which cause the gums to become more responsive to bacteria. Other hormonal fluctuations throughout a woman's life, including taking certain drugs for birth control or during menopause, can cause similar situations.
Family History. You could be at higher risk if members of your immediate family have a history of gum disease. Researchers estimate that 30% of the U.S. population has a genetic predisposition to the disease; it's also possible for family members to transfer bacteria to other family members by way of saliva contact or shared eating utensils.
Smoking. Nicotine, the active ingredient in tobacco smoke, causes changes in the blood vessels of the mouth that could inhibit the flow of antibodies (produced by the body to fight infection) in the bloodstream. As a result, smokers experience more rapid disease development and greater detachment between teeth and gums than non-smokers.
Other Inflammatory Conditions. A number of studies indicate people with other inflammatory conditions like heart disease, arthritis or diabetes have a higher risk for gum disease. Some researchers have even suggested that bacteria associated with gum disease pass into the blood stream and threaten other parts of the body — an added incentive to seek treatment and stop the disease's advancement.
If you fall into any of these risk categories, it's even more urgent that you practice effective daily hygiene with regular office checkups. Additionally, if you begin to notice bleeding gums, tenderness and swelling, or loose teeth, contact us as soon as possible for an evaluation.
If you would like more information on the diagnosis and treatment of gum disease, please contact us or schedule an appointment for a consultation. You can also learn more about this topic by reading the Dear Doctor magazine article "Assessing Risk for Gum Disease."
By Complete Family Dentistry
December 01, 2014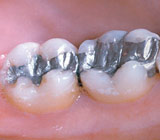 Metal amalgam fillings for dental caries have been used since the mid 19th Century. Although newer, "natural color" filling materials have become available, amalgam remains a standard choice among dentists.
Dental amalgam is a metal alloy created by carefully combining exact proportions of mercury, silver, tin and copper. Though quite pliable when first mixed, the alloy eventually sets into a very hard substance that stands up well against the forces produced by the mouth's natural chewing function. The presence of mercury, however, has raised concerns for some that the metal's toxic properties pose a risk to the patient's health.
But after decades of research, the American Dental Association and other health organizations have concluded that dental amalgam "is a safe, reliable and effective restorative material." Studies have determined that any free molecules of mercury that could potentially enter the bloodstream are trapped in the set amalgam. And although the amalgam can release mercury vapor during chewing, the amounts are well below the levels considered harmful.
Dental amalgam has proven to be versatile, effective and economical. It doesn't create an allergic reaction, is quite durable, and doesn't interfere with normal chewing function. It does, however, have its drawbacks. Its use can require more tooth material to be removed to keep the fillings in place, and they can increase temperature sensitivity during the initial four to six weeks. And, of course, their metallic appearance, especially when used in more visible front teeth, reduces their aesthetic appeal.
Other, more cosmetically appealing types of filling material have been developed over the years. These include composite resin fillings, a mixture of glass or quartz in a resin medium; glass ionomers, made of acrylic acids and fine glass powders and best used in areas not subject to heavy chewing; and resin ionomers, similar to glass ionomers but with the addition of acrylic resin. Each of these has their advantages and disadvantages (as well as cost considerations), but they're main advantage over amalgam is their mimicry of natural tooth color.
The choice of either dental amalgam filling or one of the tooth-color alternatives depends on what you may need and can afford. Rest assured, though, that if the choice is dental amalgam, this restoration workhorse can provide you years of safe and effective service.
If you would like more information on your options for tooth fillings, please contact us or schedule an appointment for a consultation. You can also learn more about this topic by reading the Dear Doctor magazine article "Silver Fillings."