Complete Family Dentistry Blog - Waukesha , WI
Posts for: March, 2014
By Complete Family Dentistry
March 25, 2014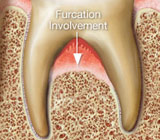 Although they may appear inert, teeth are anything but — they grow and change like other bodily tissues until complete maturation. Teeth roots are especially adaptable; teeth with multiple roots develop much like forks in a road as each root takes a different path toward the jawbone.
This fork where they separate is called a furcation. It's normal for lower molars and premolars to have two furcations, while upper molars traditionally have three. Furcations pose difficulties for teeth cleaning and maintenance. If bone loss has occurred around them, a condition called a furcation invasion has occurred. This loss is most likely due to periodontal (gum) disease, an inflammation arising from bacterial plaque on the teeth that hasn't been removed through proper oral hygiene.
We identify furcation invasions through x-ray imaging and tactile probing. They're classified in three stages of development: Class I describes early onset in which marginal bone loss has occurred, exposing a groove that leads to the beginning of the furcation; Class II is moderate bone loss where a space of two or more millimeters has developed horizontally into the furcation; and, Class III, advanced bone loss whereby the bone loss has extended from one side of the tooth to the other, or "through and through furcation."
Our first step in treatment is to remove any detectable plaque and calculus on the tooth surface, including the roots (known as scaling and root planing). These areas can be difficult to access, especially near furcations, and requires special instruments known as scalers or curettes. We may also employ ultrasonic scalers that use high-frequency vibrations coupled with water to break up and flush out the plaque and calculus.
We then apply antimicrobial or antibiotic medicines to further disinfect the area and inhibit bacterial growth while the affected tissues heal. As the infection and inflammation subsides, we then turn our attention during subsequent visits to address the bone loss around the furcation. This may involve surgical procedures to aid in re-growing gum tissue and bone and to create better access for cleaning and maintaining the area.
Finally, it's important to establish good oral hygiene habits and regular checkups and cleanings to prevent further complications or a reoccurrence of the disease. Maintaining these habits will help you avoid tooth loss and other problems with your oral health.
If you would like more information on furcations, please contact us or schedule an appointment for a consultation. You can also learn more about this topic by reading the Dear Doctor magazine article "What are Furcations?"
By Complete Family Dentistry
March 10, 2014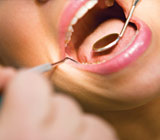 Lose a baby tooth when you're a young kid, no big deal — you'll grow another. Lose a permanent one and there's cause for concern. For one thing, tooth loss is often a symptom of an underlying oral health problem, such as tooth decay or gum disease, so it's important to identify the cause and treat it to prevent it from progressing. It is equally important to replace the tooth — not simply for the immediate impact it can have on your smile or bite, but for long-term function, esthetics and the health of the bone that supports your teeth.
The primary options for tooth replacement are fixed bridgework and dental implants. Both result in esthetically pleasing outcomes; the main difference is how each is attached. With a bridge, the replacement tooth, referred to as a "pontic," uses the two natural teeth on either side of the gap — referred to as "abutments" — for support. The pontic is sandwiched between two other crowns, which fit over and are bonded or cemented to the teeth on either side of the gap. To ensure the companion crowns fit properly, the enamel must be removed from each abutment.
Placing dental implants, by contrast, involves working only on the affected area. The "implant" is actually a small titanium rod with spiraling threads just like a miniature screw that is carefully inserted into the jawbone as though it were a natural root. The replacement tooth, a customized crown, is secured to the end portion of the implant by way of an intermediary referred to as an abutment, which firmly anchors it in place.
Both bridges and implants are natural looking, functional, predictable, and reliable. Each has its advantages and disadvantages, and based on your oral health, one may be more appropriate than the other.
If you would like more information on tooth loss and replacement, please contact us or schedule an appointment for a consultation. You can also learn more about this topic by reading the Dear Doctor magazine articles "The Hidden Consequences of Losing Teeth" and "Dental Implants vs. Bridgework."