Complete Family Dentistry Blog - Waukesha , WI
Posts for: January, 2014
By Complete Family Dentistry
January 29, 2014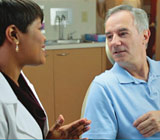 Periodontal (gum) disease is sometimes called a "silent" malady — meaning that its symptoms don't generally announce themselves with great fanfare (or pain, as conditions like tooth decay and root canal issues often do). Yet this disease is estimated to affect almost half of the adult population in the United States, causing deterioration of the gums and the bone surrounding the teeth… and possibly leading to bacterial infections, loss of teeth, and even systemic (whole-body) problems.
So what exactly is periodontal disease? Actually, it's the broad name for a group of related diseases which attack the soft tissue of the gums and the tooth-supporting bone. Most periodontal diseases are caused by the buildup of harmful bacteria in a biofilm (thin, sticky layer), which coats teeth in the absence of effective oral hygiene. And yes, that means if you don't brush and floss daily, you're much more likely to develop gum disease.
Even the most attractive smile could have gum disease lurking beneath it. How do you know if you may be affected? Some early warning signs include redness or inflammation of the edges of the gums, a bad taste in your mouth or bad breath, plus any degree of bleeding when you brush your teeth (brushing should never cause gums to bleed). As the disease progresses, you may develop painful inflammation or a pus-filled abscess, bone loss, loose teeth… and eventually tooth loss.
But don't wait until then to seek treatment! If you see your general dentist regularly, and if he or she notices signs of gum disease, you may be referred to a periodontist. But you don't need a referral — you can simply make an appointment and come in for a check-up. That may be wise if you have noticed any warning signs — especially if it has been a while since you've had an exam. Periodontal disease may be a silent malady, but that doesn't mean you have to let it affect your oral health.
If you would like more information about periodontal disease, call our office for a consultation. You can learn more in the Dear Doctor magazine articles "When To See A Periodontist" and "Warning Signs of Periodontal (Gum) Disease."
By Complete Family Dentistry
January 14, 2014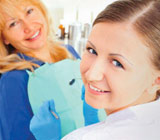 There's no doubt dental implants are an effective choice for restoring both the form and function of missing teeth. But although they aren't susceptible to tooth decay as with natural teeth, the bone and gum tissues that surround them are. Implants, therefore, require the same cleaning and maintenance as natural teeth.
A dental implant is actually a root replacement, a titanium post surgically imbedded in the jawbone. Because titanium is osteophilic ("bone-loving"), bone will naturally grow around it, making the implant more secure over time. Atop the implant is an abutment to which an artificial crown, the visible portion of the implant, is attached. The abutment is surrounded and supported by connective fibers within the gum tissue that hold the tissue against the implant surface.
This attachment differs significantly from natural teeth's attachment to the jawbone, which attach to a tooth's root through the periodontal ligament. The tiny fibers of the ligament hold teeth in place; its elasticity allows for tiny adjustments in a tooth's position in response to changes in other teeth and bone. The ligament is also rich in blood supply that enriches the area with nutrients and provides resources to fight and resist infection.
An implant doesn't have this same degree of defense against infection. Without proper hygiene, a layer of bacterial plaque known as biofilm can develop on the crown surface of both natural teeth and restorations. In addition, an infectious condition specific to implants known as peri-implantitis can set in the gum tissues surrounding the implant. This can lead to bone loss (sometimes very rapid) and eventual loss of the implant.
Although your daily hygiene won't require special toothbrushes or other devices for implant cleaning, your professional cleanings will. The metal instruments (known as curettes) used to clean natural teeth could damage implant surfaces. The hygienist will use devices made of plastic or resin rather than metal, and nylon or plastic sheaths or tips on ultrasonic equipment that are specially designed for implant cleaning.
While maintaining dental implants requires diligence on both your part and ours, implants remain an effective, long-term choice for dental restoration. In fact, some studies indicate upwards of 95% success rate. Proper hygiene will greatly increase your chances for many years of service from your implants.
If you would like more information on properly maintaining your dental implants, please contact us or schedule an appointment for a consultation. You can also learn more about this topic by reading the Dear Doctor magazine article "Dental Implant Maintenance."