Complete Family Dentistry Blog - Waukesha , WI
Posts for: September, 2013
By Complete Family Dentistry
September 23, 2013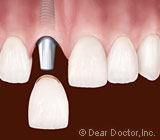 As dental implants increase in popularity, the surgical procedures to install them are becoming quite commonplace. Still, many people are nervous about this procedure, perhaps not really knowing what to expect. So if you're considering dental implants, here's a rundown of what happens before, during and after the procedure.
Dental implants are actually a tooth root replacement system. A post made of titanium is inserted into the jaw bone at the site of the missing tooth. Because of titanium's bone-friendly molecular structure bone cells naturally gravitate to its surface; over time the inserted post and bone will fuse. After a few weeks of this process, the post will be ready for a porcelain crown, bridge or overdenture to be attached to it.
Before the implant surgery you will undergo a complete dental exam. Everything is planned out in advance so that we know the exact location along the jaw to place the implants. In many cases we create a surgical template that can be used during surgery to identify these precise locations.
The procedure itself is painless for most patients, requiring only a local anesthesia. The procedure begins with small incisions in the gum tissue to allow us to see the precise point in the bone for the implant. We then create a small hole in the bone, using a drilling sequence of successive larger holes until we've achieved the best fit for the implant (during drilling you may experience a mild vibration). We then remove the implants from their sterile packaging, place them immediately into the drilled hole, then stitch the gum tissue back into place.
After surgery, most patients encounter only a mild level of discomfort for a day or two. This can be managed by prescription doses of common pain relievers like aspirin or ibuprofen, although we will use surgical strength ibuprofen. Rarely do we need to prescribe something stronger.
Once the implant fuses permanently with the bone, we then affix the final crown or other dental device in a painless procedure. This final step will give you back not only the use of your teeth, but a more appealing smile as well.
If you would like more information about dental implant surgery, please contact us or schedule an appointment for a consultation. You can also learn more about this topic by reading the Dear Doctor magazine article "Dental Implant Surgery."
By Complete Family Dentistry
September 13, 2013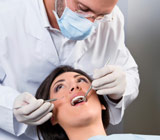 The weapons in the war against cancer are stronger and more effective than ever. But as in real war, those weapons can inflict harm on innocent bystanders — in the case of cancer treatment, other cells in your body. Your mouth in particular may develop side effects from these treatments.
The basic purpose of common cancer treatments like chemotherapy and radiation is to destroy and inhibit future growth of cancer cells. They're very effective to that end, but they can also destroy healthy cells caught in the "crossfire" with malignant cells or have an adverse effect on the body's immune system and its response to infection. Chemotherapy in particular negatively affects blood cells developing within bone marrow, which leads to lower resistance to infection.
These can have secondary effects on the mouth. Patients undergoing cancer treatment can develop painful ulcers and sores within the mouth cavity, and reduced immunity makes them more susceptible to tooth decay or gum disease (especially if risk factors were present before cancer treatment). Certain treatments may also cause dry mouth in some patients.
If you are being treated for cancer, or about to begin treatment, we can help mitigate these effects on your oral health. The first step is to perform a complete dental examination to identify any issues that may affect or be affected by the cancer treatment. We would then treat those conditions (if possible before cancer treatment begins).
We would also monitor your oral health during the treatment period and treat any complications that arise. Such treatments might include applications of high-potency fluoride to strengthen teeth against decay, anti-bacterial rinses to reduce the risk of bacterial growth, and medications to stimulate saliva if you should encounter dry mouth.
Fighting cancer will be your main priority. You should, however, remain aware of how cancer treatment may affect other aspects of your health. As your dentist, we will partner with you in seeing that your teeth and gums remain as healthy as possible during this process.
If you would like more information on caring for oral health during cancer treatment, please contact us or schedule an appointment for a consultation. You can also learn more about this topic by reading the Dear Doctor magazine article "Oral Health During Cancer Treatment."