Complete Family Dentistry Blog - Waukesha , WI
Posts for: August, 2013
By Complete Family Dentistry
August 29, 2013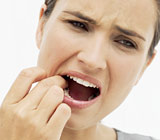 Don't ignore tooth pain hoping it goes away. No matter how mild or fleeting it may be, it's a sign that something's wrong. Healthy teeth shouldn't cause discomfort because the parts containing the nerves — the interior pulp and the dentin around it — are shielded by dental enamel and gums.
Here are some common reasons that teeth ache:
Gum Recession. Over time, gums can recede. Improper or excessive brushing can affect them, especially if you are genetically predisposed by having thin gums. When gums retreat, dentin can, or eventually will, be exposed. Besides its susceptibility to sensation, dentin is also more vulnerable to erosion and decay than enamel.
Tooth Erosion/Decay. When acid-producing oral bacteria get the upper hand, they can eat through the tooth's protective enamel to the dentin. You may start feeling sensitivity as the decay gets deeper and closer to the pulp (nerves). Only removal of the decay and filling the cavity can stop the process.
Old/Loose/Lost Filling. Fillings seal off areas of past decay. If they don't fit right or are dislodged altogether, air or food particles can slip inside and irritate exposed nerve endings. A crevice to hide in makes it prime real estate again for bacteria, too.
Cracked Tooth. Teeth grinding and jaw clenching can have a similar impact on teeth that a miner's pick has on rock. At first thin lines in your enamel can develop, then cracks develop that may expose the dentin, and finally the tooth might fracture, exposing the pulp. The earlier this process is caught, the better.
Pulp Tissue Infection/Inflammation. This can be caused by deep decay or trauma and suggests your tooth may be in its death throes. Sometimes the pulp infection travels into the surrounding periodontal (peri – around; odont – tooth) tissues and causes an abscess to develop. This absolutely requires immediate attention.
Residual Sensitivity from Dental Work. Removal of decay before placing a filling can cause tooth sensitivity. It can take 1-4 weeks or so to improve.
Sinus Pain. Congestion can cause "referred" pain in the upper teeth. When the congestion subsides, the pain should, too.
As you can see, it's risky to discount tooth pain and "wait 'til it goes away." Our office can help you determine the origin of your pain and the best course of action to resolve it. When in doubt, it's always better to err on the side of caution!
If you would like more information about tooth pain and ways to prevent or treat it, please contact us or schedule an appointment for a consultation. You can also learn more about this topic by reading the Dear Doctor magazine articles "Tooth Pain? Don't Wait!" and "Sensitive Teeth."
By Complete Family Dentistry
August 14, 2013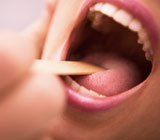 There are some people, particularly women around the age of menopause, who experience an uncomfortable burning and dry sensation in their mouths most of the time. The exact cause of this condition, known as "burning mouth syndrome," is often difficult to determine, though links to a variety of other health conditions have been established. These include diabetes, nutritional deficiencies (of iron and B vitamins, for example), acid reflux, cancer therapy, and psychological problems. Hormonal changes associated with menopause might also play a role.
If you are experiencing burning sensations and dryness, please come in and see us so we can try to figure out what's causing these symptoms in your particular case. We will start by taking a complete medical history and getting a list of all the medications you are taking as some drugs are known to cause mouth dryness. We will also give you a thorough examination.
In the meantime, here are some ways you might be able to get some relief:
Give up habits that can cause dry mouth such as chronic smoking, alcohol and/or coffee drinking, and frequent eating of hot and spicy foods.
Keep your mouth moist by drinking lots of water. We can also recommend products that replace or stimulate production of saliva.
Try different brands of toothpastes, opting for "plain" varieties that don't contain the foaming agent sodium lauryl sulfate, whiteners, or strong flavoring such as cinnamon.
Keep a food diary of everything that you put into and around your mouth (including food, makeup and personal care products). This might give us some clues as to what's causing your discomfort.
Check with us about any medications you are taking, either prescription or over-the-counter. We can tell you if any are known to dry out the mouth and maybe help you find substitutions.
Reduce stress in your life if you possibly can. This might be achieved through relaxing forms of exercise, joining a support group for people dealing with chronic pain, or seeking psychotherapy.
If you have concerns about burning mouth syndrome or any other type of oral discomfort, please contact us to schedule an appointment for a consultation.