Complete Family Dentistry Blog - Waukesha , WI
Posts for: January, 2013
By Complete Family Dentistry
January 15, 2013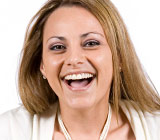 If you don't like your smile when you look in the mirror, or feel self-conscious because your teeth are discolored, there are a variety of whitening procedures that can help you obtain the smile of your dreams.
Choosing the Right White: With strips, trays and toothpastes all claiming to be the best tooth whitening systems, it can be hard to choose how to whiten your teeth. Our office can help you decide the best approach based on your individual needs, time constraints and budget. Whiteners may not correct all types of discolorations.
Whitening in Our Office: This procedure is called chair-side or professional bleaching and may require more than one office visit. Each visit may take from 30 minutes to one hour. We use an in-office whitening gel that is professionally applied to your teeth and activated by a light source, giving you significantly whiter teeth in less than an hour. Typically, teeth with a yellowish hue respond best to whitening.
Whitening Your Teeth at Home: If you are an adult who practices good oral hygiene and doesn't suffer from periodontal disease, our office can help you decide whether an at-home whitening system, or having your teeth whitened in our office best meets your needs. If you decide to go with an at-home system, you will wear a custom-made whitening tray that looks like a thin, transparent night guard. You fill the tray with a mild whitening gel and need to wear the gel filled tray for a specified period of time each day (per our office's instructions). This procedure must be continued over a period of time that generally extends from 2-4 weeks.
Whitening Products Found in Stores: If you are considering over-the-counter whitening products we can also recommend products that will offer you the best results. Whitening toothpastes that have the American Dental Association (ADA) Seal of Acceptance contain special chemical or polishing agents that generally provide some stain removal effect.
Contact us today to schedule an appointment or to discuss any questions that you may have regarding teeth whitening. Read more about this topic in the Dear Doctor magazine article "Teeth Whitening."
By Complete Family Dentistry
January 05, 2013
Root canal, or endodontic ("endo" – inside; "dont" – tooth) treatment, is often wrongly perceived as a highly unpleasant experience and one that causes tremendous pain. However, the truth is that the procedure actually relieves the pain being caused by an infected and inflamed tooth pulp (inside of the tooth). Advances in dentistry have made treatment virtually pain free and it can be completed relatively quickly, usually in a single visit. Left untreated, infection can spread into the bone immediately around the tooth's root, so prompt attention is the best course of action.
If the term "root canal" still sends shivers down your spine, don't despair. Here is some information that should help put your mind at ease.
Root canal treatment is necessary when deep decay or trauma has caused the inside (pulp) of the tooth to become inflamed or infected. Symptoms of infection can include sharp pain when biting down, lingering pain after consuming very hot or cold foods, a dull ache and feeling of pressure near the infected tooth, and tender gum tissue surrounding the infected tooth.
After a local anesthetic is administered to numb the infected tooth and its surrounding area, we will make a small opening on the chewing surface of the tooth. This will allow us to remove dead and dying tissue from the pulp and to then clean and disinfect the root canals. Using small instruments, we will shape the canals and seal them with biocompatible filling materials.
You may feel slight tenderness at the treated site for a few days, but this is quite manageable and can be relieved with over-the-counter (OTC) non-steroidal, anti-inflammatory pain relievers such as aspirin or ibuprofen. You should refrain from chewing on the treated tooth until your follow-up appointment. A crown or other restoration may be needed to protect the tooth and restore it to full function.
If you think you might be a candidate for a root canal treatment, schedule an appointment as soon as possible. If you would like to learn more about the process of root canal treatment, please read the Dear Doctor magazine article "Common Concerns About Root Canal Treatment."