Complete Family Dentistry Blog - Waukesha , WI
Posts for: December, 2012
By Complete Family Dentistry
December 19, 2012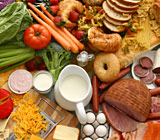 How many of these questions can you answer correctly? The more you know about nutrition and oral health, the healthier you are likely to be.
What are free sugars?
"Free sugars" is a term for sugars including refined cane, beet and corn sugar, which are added to foods or occur naturally in honey, syrups or fruit juices.
You probably know that foods with added sugars are not healthy for your teeth. What is the maximum recommended sugar intake for oral health?
The recommended daily limit for free sugar is 10 teaspoons per day. Note that one can of soda contains over 6 teaspoons.
If a sugary snack is bad for your teeth, what could you substitute that would be better?
Fresh fruits and vegetables would be a better snack. Fresh fruits contain fructose, a sugar that has not been shown to be harmful to teeth if eaten in reasonable amounts.
How can you get enough fluoride to guard your teeth against decay?
If your water supply does not contain fluoride, or if you usually drink bottled water, you may or may not be receiving enough fluoride from your toothpaste. We can assess if you are receiving enough fluoride by examining your teeth, testing your plaque and reviewing your past history of tooth decay. If you are having a problem with tooth decay, we can create fluoride trays for you so you can apply a fluoride solution to your teeth daily.
What is dental erosion and how is it different from tooth decay?
Some acidic foods, particularly drinks such as juices and sodas, wear away your teeth's outer coating (the enamel) when exposed to the teeth's surface. Erosion does not involve bacteria, the cause of dental caries (tooth decay).
Can certain foods stop acidity from attacking your teeth?
Yes, there are foods that reverse the increase in acidity that comes from eating free sugars. One of these is cheese. Cheese stimulates saliva in your mouth, and it contains high levels of calcium, allowing calcium to be added back to your teeth. Many vegetables and starchy whole grain foods require thorough chewing, which also stimulates production of saliva and guards against tooth decay.
We hope you learned some useful facts from this nutrition quiz. If you modify your habits so that you eat less free sugar; drink more water (preferably fluoridated), drink fewer juices and sodas; and snack on fresh fruits, vegetables, and cheese, you can count on having healthy teeth and gums.
Contact us today to schedule an appointment to discuss your questions about diet and oral health. You can also learn more by reading the Dear Doctor magazine article "Nutrition & Oral Health."
By Complete Family Dentistry
December 04, 2012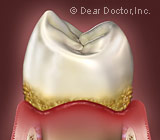 Since the dawn of man, periodontal (gum) disease has impacted humans. And while dental health has dramatically improved over the generations, the facts are still clear — millions of Americans are suffering from gum disease and probably do not even know that they have a problem. This is because periodontal disease most often starts without any symptoms or ones that most people tend to discount or ignore.
Stage 1: Gingivitis. The first stage of gum disease is inflammation of the gingiva (gums) without bone loss. While nearly all people will develop gingivitis in the absence of good oral hygiene, only 10 to 15% of them will go on to develop more advanced stages of the disease.
Stage 2: Early periodontitis. With this stage, gingivitis progresses into the deeper periodontal structures — the tissues that attach the teeth to the bone resulting in early or beginning bone loss. About 10% of the population develops full-blown periodontitis with progressive bone loss.
Stage 3: Moderate periodontitis. The third stage of gum disease results in moderate bone loss (20 to 50%) of root surfaces of the teeth due to continued destruction of the surrounding tissues and bone. Periodontal disease is "cyclical" — it goes in cycles with bursts of activity, followed by a period in which the body tries to recover. This is called chronic inflammation, or frustrated healing.
Stage 4: Advanced periodontitis. With the final stage of gum disease, there is severe bone loss (50 to 85%) from the tooth's root. This stage includes looseness of teeth, moving teeth, abscess formation with red, swollen and painful gums. The end results — eating and even smiling is difficult and uncomfortable, and you could lose all your teeth.
You can learn more about gum disease in the Dear Doctor article, "Understanding Gum Disease."
Have We Described Your Mouth?
If any of the above stages sounds like we are talking about your mouth, contact us today to schedule a consultation, discuss your questions and receive a thorough exam. If addressed promptly and with commitment to following your treatment plan, your mouth can return to good oral health.