Complete Family Dentistry Blog - Waukesha , WI
Posts for tag: common symptoms
By Complete Family Dentistry
November 07, 2013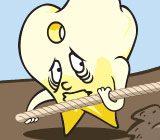 Your teeth are under constant attack from bacteria that normally live in your mouth. When these bacteria thrive, they create acid that begins to dissolve the minerals in your enamel (the outer layer of your teeth). In your defense, your saliva protects against these bacteria and adds minerals back to your enamel. Let's take a look at this ongoing battle, and what you can do to sway it in a positive direction.
The outer covering of your teeth, the enamel, is made mainly of the minerals calcium and phosphate. The enamel protects the interior layer of your teeth, the dentin, which is similar in composition to bone. Although it is the hardest substance in your body, the enamel is still vulnerable to attack.
Your mouth is normally full of saliva, which washes over your teeth and maintains a balance between acids and bases. The terms "acids" and "bases" refer to a scientific measurement, the pH scale. Your mouth's pH is usually in the middle of the scale — neither acidic nor basic, but neutral. This is important in controlling the bacteria in your mouth.
You may be surprised to know how many bacteria live in everyone's mouth. More bacteria live in a single mouth than the number of people who have ever lived on earth. Some of these bacteria can cause tooth decay. Let's call them "bad bacteria."
When the bad bacteria attach themselves to dental plaque — a film that builds up on your teeth every day — they begin to consume sugars that are in your mouth from foods that you have eaten. As the bacteria break down these sugars and turn them into energy, acid is produced as a by-product. This turns the saliva from neutral to acidic.
At a certain level of acidity, minerals in your enamel start to dissolve. This is called "de-mineralization." It means that more calcium and phosphate are leaving the tooth's surface than are entering it. Early de-mineralization of the enamel shows up as white spots on a tooth.
Fortunately, healthy saliva can return calcium and phosphate to the enamel, or re-mineralize it. De-mineralization and opposing re-mineralization are constantly battling in your mouth. However, if too much enamel is de-mineralized, bacterial acid can go on to attack the next layer of your teeth, the dentin. As this process continues, you develop a dental cavity.
How can you protect your teeth? The first level of defense is regular removal of plaque, so that the bad bacteria do not get a foothold. In an office visit we may also recommend products such as sealants, antibacterial agents, topical fluoride, calcium and phosphate supplements, pH neutralizers, special toothpaste and rinses, which may help your particular situation.
Contact us today to schedule an appointment to discuss your questions about tooth decay. You can learn more by reading the Dear Doctor magazine article "Tooth Decay — The World's Oldest & Widespread Disease."
By Complete Family Dentistry
February 27, 2013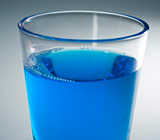 In our office, many of our patients are always asking us if over-the-counter (OTC) mouthwashes or mouthrinses are truly effective tools for curing bad breath. Unfortunately, nearly all of them merely mask any odorous smells temporarily — regardless of how refreshing they taste. There are mouthrinses available that are effective for treating gingivitis and tooth decay, but you must visit our office to obtain a proper diagnosis and a prescription for them. Reality is that a mouthrinse alone can't cure bad breath; however, there are products available that can make a positive impact on your dental health. The key is to match the right mouthrinse to your specific dental need.
OTC mouthrinses that contain about 0.05% sodium fluoride are an effective tool that when combined with good oral hygiene can significantly reduce the development of tooth decay.
OTC mouthrinses that contain alcohol, triclosan, sanguinaria extract, zinc and/or essential oils such as menthol can somewhat help reduce the bacteria in plaque, which in turn can reduce gum inflammation (gingivitis) and bad breath when used in combination with proper brushing and daily flossing.
Prescription mouthrinses containing chlorhexidine may be more effective in helping to control both gingivitis and tooth decay in certain circumstances. This is because chlorhexidine inhibits the formation of dental plaque by preventing bacteria from sticking to your teeth.
While bad breath may seem unbearable, it is often treatable. The key is to determine and then address what is causing your bad breath. A simple trip to our office for a proper exam, assessment and thorough cleaning along with improved oral hygiene may just do the trick. Contact us today to schedule a consultation for an examination and treatment plan.
Learn More
To learn more about mouthrinses, read the Dear Doctor article, "Mouthrinses."
By Complete Family Dentistry
December 04, 2012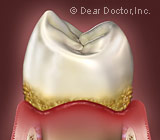 Since the dawn of man, periodontal (gum) disease has impacted humans. And while dental health has dramatically improved over the generations, the facts are still clear — millions of Americans are suffering from gum disease and probably do not even know that they have a problem. This is because periodontal disease most often starts without any symptoms or ones that most people tend to discount or ignore.
Stage 1: Gingivitis. The first stage of gum disease is inflammation of the gingiva (gums) without bone loss. While nearly all people will develop gingivitis in the absence of good oral hygiene, only 10 to 15% of them will go on to develop more advanced stages of the disease.
Stage 2: Early periodontitis. With this stage, gingivitis progresses into the deeper periodontal structures — the tissues that attach the teeth to the bone resulting in early or beginning bone loss. About 10% of the population develops full-blown periodontitis with progressive bone loss.
Stage 3: Moderate periodontitis. The third stage of gum disease results in moderate bone loss (20 to 50%) of root surfaces of the teeth due to continued destruction of the surrounding tissues and bone. Periodontal disease is "cyclical" — it goes in cycles with bursts of activity, followed by a period in which the body tries to recover. This is called chronic inflammation, or frustrated healing.
Stage 4: Advanced periodontitis. With the final stage of gum disease, there is severe bone loss (50 to 85%) from the tooth's root. This stage includes looseness of teeth, moving teeth, abscess formation with red, swollen and painful gums. The end results — eating and even smiling is difficult and uncomfortable, and you could lose all your teeth.
You can learn more about gum disease in the Dear Doctor article, "Understanding Gum Disease."
Have We Described Your Mouth?
If any of the above stages sounds like we are talking about your mouth, contact us today to schedule a consultation, discuss your questions and receive a thorough exam. If addressed promptly and with commitment to following your treatment plan, your mouth can return to good oral health.