Complete Family Dentistry Blog - Waukesha , WI
Posts for: April, 2021
By Complete Family Dentistry
April 20, 2021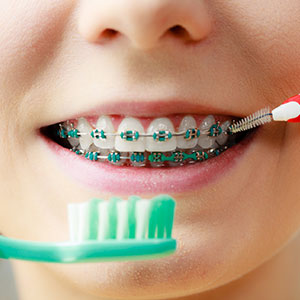 Wearing braces can pose challenges for your daily life and habits. One in particular is trying to keep your teeth and gums clean.
Braces or not, your oral hygiene needs to be thorough. Every day, your teeth accumulate a thin film of bacteria and food particles called dental plaque that can cause tooth decay or gum disease. It's essential to remove as much as possible each day by brushing and flossing.
That's a more difficult task with braces. The brackets and wires interfere with accessing many of your teeth's surfaces with a toothbrush or floss. As a result, braces wearers on average have a higher incidence of dental disease than non-wearers.
But while it's difficult to keep your mouth clean wearing braces, it's not impossible. Here are some tips and tools for making oral hygiene easier during orthodontic treatment.
A low-sugar diet. Besides items like chips that could damage your braces, you should also limit your consumption of foods and snacks with added sugar.  This carbohydrate is a primary food source for disease-causing bacteria. Limiting sugar in your diet can help reduce plaque buildup.
The right toothbrush. Brushing with braces is easier if you use a soft multi-tufted brush with microfine bristles. The smaller bristles maneuver better around the braces than larger bristled brushes. You'll still need to make multiple passes above and below the wires to be sure you're brushing all tooth surfaces.
Flossing tools. Traditional flossing using just your fingers can be next to impossible to perform with braces. But a tool like a floss holder or threader can make it easier to get between teeth. You might also try a water flosser that removes plaque from between teeth with a pressurized spray of water.
Dental treatments. Your dentist can give your teeth extra protection while you're wearing braces with topically applied fluoride to strengthen enamel. Using mouthrinses with an antibacterial ingredient like chlorhexidine may also reduce harmful bacteria.
Be sure you also keep up regular visits with your family dentist while wearing braces, and especially if you begin to notice puffy and reddened gums or unusual spots on your teeth. The sooner any case of dental disease is detected, the less impact it will have on your dental health.
If you would like more information on dental care while undergoing orthodontic treatment, please contact us or schedule an appointment for a consultation. You can also learn more about this topic by reading the Dear Doctor magazine article "Caring for Teeth During Orthodontic Treatment."
By Complete Family Dentistry
April 10, 2021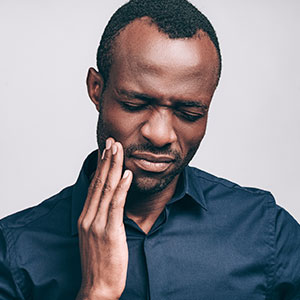 A scoop of ice cream is one of life's little pleasures. But for one in three Americans, it could be something altogether different—an excruciating pain when cold ice cream meets teeth. This short but painful experience that can happen when dental nerves encounter hot or cold temperatures is called tooth sensitivity.
A look at tooth anatomy will help explain why. Teeth are mainly composed of outer enamel, a layer of nerves and blood vessels within the tooth called the pulp, and dentin, a porous layer in between. The pulp nerves pick up temperature and pressure sensations from outside the teeth through a network of tiny passageways (tubules) in the dentin. Enamel muffles these sensations before traveling the tubules, which prevents overstimulation of the nerves.
This careful balance can be disrupted, however, if the enamel becomes eroded by acid from foods or beverages, or as a byproduct of bacteria. This exposes the underlying dentin to the full brunt of outward sensations, which can then impact the nerves and cause them to overreact.
This hyper-sensitivity can also occur around the tooth roots, but for a different reason. Because the gums primarily protect this area rather than enamel, the roots can become hyper-sensitive if they lose gum coverage, a condition known as gum recession caused mainly by gum disease or over-aggressive hygiene.
Besides using dental products that block nerve sensation, reducing sensitivity largely depends on addressing the underlying cause. If gum disease, the focus is on removing plaque, a bacterial film on dental surfaces that causes and sustains the disease. Stopping an infection allows the gums to heal and hopefully regain their original teeth coverage. More advanced cases, though, may require grafting surgery to foster gum regeneration.
If the cause is enamel erosion or other results of decay or trauma, we can utilize a number of treatments depending on the extent of tooth damage including cavity filling, root canal therapy or crowning. As a last resort, we may need to remove a tooth that's beyond reasonable repair.
If you've begun to experience sensitive teeth, it's important that you see us as soon as possible. The earlier we can diagnose the cause, the less invasive we can be with treatments to ease or even stop this most unpleasant experience.
If you would like more information on tooth sensitivity, please contact us or schedule an appointment for a consultation. You can also learn more about this topic by reading the Dear Doctor magazine article "Treatment of Tooth Sensitivity."