Complete Family Dentistry Blog - Waukesha , WI
Posts for: December, 2016
By Complete Family Dentistry
December 25, 2016
Eating disorders cause more than psychological harm. The binge-purge cycle of bulimia or the self-starvation patterns of anorexia can also injure the physical body, especially the mouth.
For example, nine in ten people with bulimia will experience tooth enamel erosion from stomach acid entering the mouth from induced vomiting. Although purging is less frequent with anorexic patients, one in five will also develop erosion.
An eating disorder isn't the only reason for enamel erosion: you can have high acid levels from over-consuming sodas, energy drinks or certain foods, or not properly brushing and flossing every day. But erosion related to an eating disorder does produce a distinct pattern in the teeth. When a person vomits, the tongue moves forward and presses against the bottom teeth, which somewhat shields them from acid contact. This can create less erosion in the lower front teeth than in others.
Eating disorders can cause other oral effects. Stomach acid contact can eventually burn and damage the mouth's soft tissues. The salivary glands may become enlarged and cause puffiness along the sides of the face. The use of fingers or other objects to induce gagging can injure and redden the back of the throat, the tongue and other soft tissues.
It's important to stop or at least slow the damage as soon as possible. To do so requires both a short– and long-term strategy. In the short-term, we want to neutralize mouth acid as soon as possible after it enters the mouth, especially after purging. Rather than brushing, it's better to rinse out the mouth with water or with a little added baking soda to neutralize the acid. This will at least help reduce the potential damage to enamel.
In the long-term, though, we need to address the disorder itself for the sake of both the person's overall well-being and their oral health. You can speak with us or your family physician about options for counseling and therapy to overcome an eating disorder. You may also find it helpful to visit the website for the National Eating Disorders Association (nationaleatingdisorders.org) for information and a referral network.
If you would like more information on how eating disorders can affect health, please contact us or schedule an appointment for a consultation. You can also learn more about this topic by reading the Dear Doctor magazine article "Bulimia, Anorexia & Oral Health."
By Complete Family Dentistry
December 10, 2016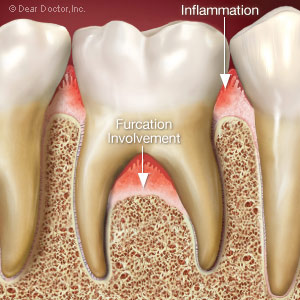 Periodontal (gum) disease is a serious matter. Not only can it wreak havoc with your gums, it could also cause bone loss in the jaw that supports your teeth.
Gum disease is a bacterial infection that originates from a thin film of food particles on tooth surfaces called plaque. If you're not diligent about removing plaque through daily brushing and flossing, it can become a feeding ground for certain strains of bacteria that trigger gum infections. Left untreated, the disease can advance deeply into the teeth's supporting structures.
We're particularly concerned about furcations, the specific locations where multiple roots of a tooth fork or separate. When these locations become infected we call it a furcation involvement or invasion. The bone along the furcation will begin to deteriorate and dissolve, following a progression of stages (or classes) we can measure by probing the gum tissue or through x-ray evaluation:
Class I: the furcation feels like a groove, but without any noticeable bone loss;
Class II: a depression of about two or more millimeters develops indicating definite bone loss;
Class III: Â bone loss now extends from one side of the root to the other, also known as "through and through."
Treating furcation involvements can prove challenging because the infection is usually well below the gum line (sub-gingival). As with all gum disease treatment, our primary approach is to remove all plaque and calculus (hardened plaque deposits) where we find it, including around the roots. We typically use specially shaped instruments to clean the root surfaces. We can also employ an ultrasonic device that loosens plaque and calculus with high-frequency vibrations and flushed away with water.
Sometimes, we may need to surgically access involved furcations to clean them and stimulate bone growth with grafting. We can also use surgery to make the areas easier to clean — both for you and for us during your regular office cleanings — to prevent reoccurrences of infection.
Of course, preventing gum disease in the first place is your best defense against oral problems like furcation bone loss. Be sure you brush and floss every day, and visit us for thorough cleanings at least twice a year (unless we recommend more). This will help make sure not only your gums, but the bone that supports your teeth stays healthy.
If you would like more information on treating periodontal (gum) disease, please contact us or schedule an appointment for a consultation. You can also learn more about this topic by reading the Dear Doctor magazine article "What are Furcations?"