Proper Oral Hygiene is Just as Important for Implants as it is for Natural Teeth
Proper Oral Hygiene is Just as Important for Implants as it is for Natural Teeth
Author: Anonymous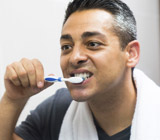 One of the great benefits that patients with implants enjoy is their imperviousness to decay: unlike a natural tooth, bacteria have no effect on the materials in an implant's construction. That doesn't mean, however, you can become lax in your hygiene habits — although the implants may not be susceptible to disease, the surrounding gum tissue and bone are. If those tissues become infected you could start to lose the implant attachment and, as it progresses, the implant itself.
In fact, the gum tissue that surrounds the implant may be more susceptible to infection than those around natural teeth. Teeth maintain a connection with the jawbone through the periodontal ligament. Besides securing the tooth, the gum tissue has fibrous attachments to the tooth to help the gum tissue endure a lot of wear and tear and resist the invasion of bacteria and food particles. Implants are anchored directly into the jawbone (where bone eventually grows and attaches to the titanium implant surface) and don't develop an attachment with the ligament. Implants, therefore, don't have the benefit of resistance to bacteria and food particles that natural teeth receive through these fibrous attachments.
As a result, patients with implants need to establish a conscientious habit of effective oral hygiene. Daily removal of bacterial plaque from teeth surfaces through brushing and flossing (and semi-annual office cleanings and checkups) greatly reduce the risk of infection and subsequent inflammation. It's also important to monitor the condition of your gums, especially around implants. If you begin to notice bleeding, red or swollen gums, or other signs of possible gum disease, you should contact us as soon as possible for an assessment.
Proper care for implants and their supporting tissues is just as necessary, and perhaps more so, than it is for natural teeth. By providing that care, you'll help ensure years of effective service from your implants.
If you would like more information on hygiene practices with implants, please contact us or schedule an appointment for a consultation. You can also learn more about this topic by reading the Dear Doctor magazine article "Infections Around Implants."
Tags: oral hygiene,&nbsp dental implants